This article is a stub.

You can help the Higurashi no Naku Koro ni Wiki by expanding it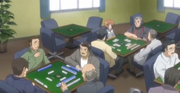 The mahjong parlor or gaming club appears several times in Higurashi no Naku Koro ni, starting with Onikakushi-hen when Ōishi calls Keiichi from said parlor. It is most likely located in Okinomiya.
The parlor makes a more prominent appearance in Hirukowashi-hen when Rena, under the magatama's influence, followed Ōishi to play mahjong. Keiichi and Akasaka play against the two in order to "save" Rena.
Ad blocker interference detected!
Wikia is a free-to-use site that makes money from advertising. We have a modified experience for viewers using ad blockers

Wikia is not accessible if you've made further modifications. Remove the custom ad blocker rule(s) and the page will load as expected.