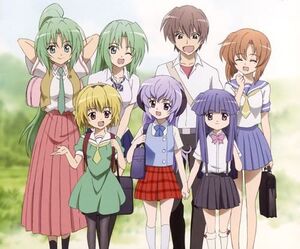 The Club contains all of the main characters, Sonozaki Mion, Ryūgū Rena, Furude Rika, Hōjō Satoko, Maebara Keiichi and later also Sonozaki Shion and Furude Hanyū. Mion is the leader of the club, which is also clearly shown as she often if not always decides what game to play. In Higurashi no Naku Koro ni Kai, she also shields the others from Takano, taking the responsibility as the club leader and gladly sacrificing her life if it saves the others. It is revealed in Matsuribayashi-hen that the club was originally formed by Mion for the purpose of keeping Satoko and Satoshi away from their abusive aunt as long as possible, as well as letting them have fun and relieving stress while the the two were still allowed to.
Club Members
Edit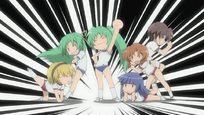 The Games
Edit
The club seems to be playing a lot of games and play many different things in the P.E. at school. Whether it's a game of Old Maid or a Zombie Tag, there are always penalty games following against the loser.
Club members must strive for first place with a full-hearted attitude.
As a club member, you must do whatever it takes to win (which includes playing unfair sometimes).
You must go through the punishment no matter what.